Exhibition
October 1~May 30: Special Exhibition "Seasons Come, and Seasons Go-Seasonal Wisdom and the Folk House-"
Seasons come and seasons go. Japanese people are living with the changing of the seasons throughout a year.
In this exhibition, the hot and humid days in the summer, the dry and freezing days in the winter, we introduce how we have been living with the seasons.
Discover the wisdom and ingenuity including a range of tools, clothes and architectural designs for living with each of the seasons.
Date: Thursday, October 1, 2020 ~ Sunday, May 30, 2021
Time: 9:30 ~ 17:00 *9:30 ~ 16:30 from November to February
Fee: included in the admission fee
Place: the exhibition room in the main building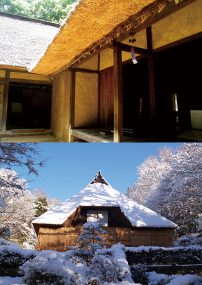 *
A gallery talk open to all
is presented by our staff once a month. There is also
a gallery talk customized for children
.